I have a confession: I get excited when someone comments on my blog. Yeah, I know I've said that I write just for myself, and that is still true. But when someone takes the time and leaves a comment about what I've shared on a particular day, I get excited. Sometimes I even do a little happy dance, followed by furtive glances about to make sure that no one anywhere nearby saw me. Occasionally I even giggle out loud. To know that someone appreciates my writing is like water to a thirsty plant. I've turned off anything and everything that might inhibit a person's ability to comment on my blog. If I could automatically send cookies to each and everyone of you, I would.
I try to read as many blogs as I can, to show my appreciation, to pay it forward, and any other form of good karma that I can share. Since I am usually in places where blogs are not easily accessible, I have to use my phone to read. This usually works out well, when I am standing in a long line, or waiting in a doctor's office, or waiting for my nephew's name to be called at his graduation(he was way back in the Ws, fer cryin' out loud!). Plenty of moments during the day, which would otherwise be spent staring blankly off into space, are now packed with stories of children's escapades, cookie recipes, romance, and horror. I always want to comment, to tell the blogger how much I enjoyed their post.
But sometimes, despite my best efforts, I can't comment. Some bloggers seem to have designed obstacle courses for their commenters. I've clicked on blogger names, and been directed to a page, only to find that the person has moved their blog somewhere else without leaving a forwarding link, to name one example.
Sometimes, the blogger has that captcha thing set up, where you have to enter a long series of numbers or words in addition to your comment, to verify that I am not a random computer spammer. Do you know how tiny those numbers are on a phone, to these old(ish) eyes? Even if I enlarge the screen, sometimes I just cannot see clearly enough to type out the correct numbers, so I get the 'try again' screen. After a couple of tries, I have to move on to the next blog, or else throw my phone at the wall in frustration. I might try again once I turn on my desktop, but my memory is an iffy thing these days.
There are also those boxes underneath the comment box, that nonspammers need to check in order to prove they are indeed not spammers. Again, do you know how very tiny those little boxes are on a phone? And how resistant they are to my fingers trying to hit them? I often feel like a horrible microsurgeon attempting to reconnect nerve endings in a do or die situation. I think that five minutes of trying to check that tiny box and hit submit, followed by a message telling me to check the box, is plenty. I move on.
Then there are the Wordpress blogs which require a person to log in to comment, like Wordpress is some sort of gated community. Since I don't have a Wordpress account, I can't log in, and often I don't see any other way to leave a comment. So I have to move on.
If I cannot actually comment, for whatever reason(sometimes my phone, or local wifi, will not cooperate), I still try to show some appreciation by sharing the post on Twitter or Facebook, if there is a button that I can find. Ultimately, however, there are only so many hours in a day, and I have to do other things.
I
do
try to comment. I do try my very best to return the favors bestowed upon my by others. Sometimes I go to sleep feeling that I didn't do enough, and I feel guilty. I know that sounds silly, but I'm Catholic, and we are all about unresolved guilt over weird things.
I made a promise to do my best and then let it go, and I'm working on that. I am certainly not perfect, but I am still trying. My efforts are sometimes appreciated, such as by Comment Bob, here, and that lets me know that I am on the right track.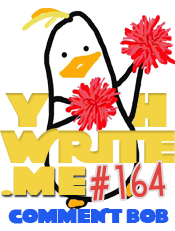 So, if you feel that I am not showing your blog the comment love it deserves, let me know here or via email. Try not to yell. I promise to try and do better.