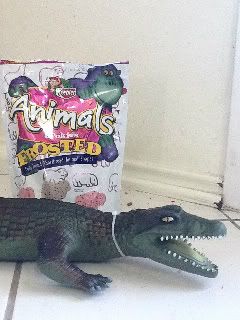 The tag said that this was a crocodile, but I'm pretty sure that it's a alligator. My husband
just
mentioned that this particular fake reptile made him a little nervous, and I come downstairs and find this. I know that there's a perfectly reasonable explanation. Alligators don't like frosted animal crackers.
They
do
like marshmallows, however. I learned that from watching
True Blood
. You can actually learn useful things from the television, I don't care what all those psychologists say! I was about to go on a tour of the swamps of Louisiana with marshmallows for snacking, and now I know to take chocolate instead.
Why are they called marshmallows, anyway? And there isn't any ham in hamburgers, so why are they called that? Who decides this sort of thing? Is there a government office somewhere? If so, where do I apply?
I can't talk about politics around here because there are too many Republicans who have concealed handgun licenses. I refuse to own a gun, however, because the rule in our house is that if you kill it, you eat it. There isn't enough ketchup in the world.
Say what you will about Tom Cruise, I kind of like him in action movies. Of course, he doesn't do very much talking in those movies, which is a plus.
My cat Pounce is sitting on the printer next to me, like a vulture. Does she know something?
My thinking is pretty random today, isn't it?
This is my last "work-free" day. Technically, anyway. I've already been logging in from home, trying to figure out some computer glitches here and there. Serves me right for answering the dang phone. It has been wonderful not thinking about work.
Someone needs to give me a couple million dollars so I can stay home all day and just be a philanthropist-type who wears big hats and 'lunches'.
I could learn to love big hats, if I got free lunches out of the deal.