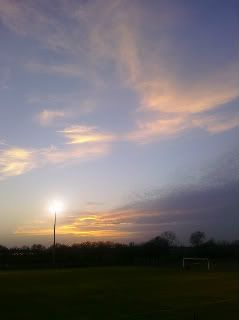 In case you can't see it, the way the clouds are shaped, I can see the outline of a dove in the sky of this picture.
I took it with my cell phone. I didn't think that it would come out, because this was close to sunset, but it did.
I think that sometimes we are so focused on what is in front of us, on putting one foot in front of the other, that we miss some of the beauty that pops up every now and then.
So my wish for everyone today is that you have the time, even if it is just a minute, look up and see at least one beautiful thing today, be it a cloud, a flower, or the smile of your children.