We arrived at the Challenger soccer camp early Monday morning, and Zane happily greeted his friends and teammates. These boys had been playing together for over two years, and their happiness at seeing each other was infectious. They jostled amongst themselves and laughed while the adults set up the canopy that would protect us all from the hot morning sun. I greeted each boy as they arrived, and was rewarded with a big smile from each.
Every boy, all three of them, was missing a front tooth.
I immediately exclaimed over their missing dentition and asked the usual questions about their visit from the Tooth Fairy. One Tooth Fairy was so excited, she left ten bucks! The other moms were fondly beaming at their progeny as all of our boys ran over to their coach to begin camp. I smiled along with them. I was silently suffering Mom Envy, however.
Zane still has all of his baby teeth. I felt just horrible about that.
It is ridiculously silly, I thought. To feel bad that my kid hasn't lost any teeth yet. But losing the first tooth is a big milestone of childhood. Huge. Colossal. The official end of Babyhood. The Gateway to the next stage of development. I have only vague and hazy memories of losing my own teeth, so I did the geek thing and read about it. I purchased a book for Zane about losing teeth, and read it to him, so he wouldn't be scared when a tooth fell out. Any day now, it would happen, I thought. I was ready.
That was last year. Or two.
I didn't think for a moment that Zane would be the very first to lose a tooth. Half of his kindergarten class lost various teeth during the past year, and I didn't blink an eye. I had no fantasies of lording it over the other moms that MY child was first to receive a visit from the Tooth Fairy. No dance was prepared, no banner rolled up and waiting in the closet. I just wanted it to happen, and I didn't want Zane to be last. After the circumstances of his birth, there will always be a possibility that a milestone or two will be delayed. I know that. I just didn't want it to be this particular milestone. I can't even articulate why I felt that way, only that it punched me in the gut when I saw all of those gap toothed smiles. Maybe I had vague aspirations of my role as the Tooth Fairy, or perhaps I wanted my son to experience something that can be traumatic as something wonderful instead.
But these things happen when they happen. There is no rushing it, the truth is that I have to let go of my need to control everything, even the Tooth Fairy. Life makes up its own timetable, and I just have to trust that it will happen, whenever that may be. Sitting in my chair on the sidelines, I just decided to get over myself.
The Tooth Fairy can wait.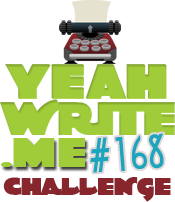 So I wrote all this, got it out of my system, and now Zane has a loose tooth. Barely loose, but enough for him to notice. Tooth Watch 2014 has begun.