It all started one day when I saw someone wearing some cute earrings. I don't usually pay attention to such things, but that day I did. I looked at those earrings and I said these very familiar words.
"I can do that."
It was all downhill from there.
I am not a very crafty sort of person. In the first place, I have fine motor coordination issues. Threading a needle is akin to performing brain surgery with a spoon for me. And when I try to concentrate on being coordinated, my hands start shaking. The next strike against me is my general lack of patience. It makes it very difficult to learn a craft when you keep throwing it down in disgust because you messed up. Third, I have a three year old who wants to do EVERYTHING his father and I do. (He did actually sit still for a good 15 minutes one day and strung beads, but now it's more fun to throw them on the floor for the cat to smack around.) Finally, I don't have that much 'me' time--I can either blog, or I can craft. Since writing comes much easier to me, that's usually what I choose.
All that said, I was determined to give it a try. I went out and bought a little kit to make earrings. And a little pair of crimping pliers.
They turned out okay, I thought, and did not result in any injury. I gave some earrings to one of my coworkers,
Kimberly Kelly
. I figured that she could wear them when she performs and if she lost one or it broke, it would be okay.
Next I decided to try a necklace using glass beads and plain wire.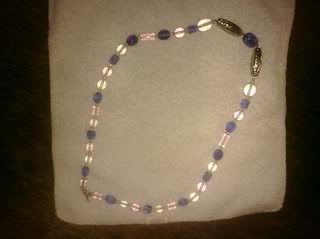 So far so good! Like crochet(which I just can't do right now while it's 4000 degrees), if you don't like the way things turn out, you can start over. It's nice sometimes to have a do-over.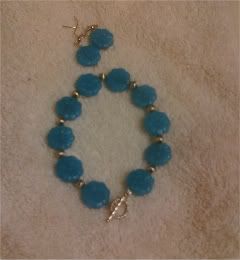 And this was pretty easy, too. So now I am hooked on this stuff. I'm even feeling comfortable enough to start working with the 'real' stuff like silver.
I don't think that they have a support group, like AA, for this sort of thing, do they?