NOTE: I am very excited to be a featured blogger over at the Crazed Fan Blog Hop. Welcome to all visitors! Please fasten your seatbelts and keep your hands, feet, and all objects inside the vehicle while it is in motion.

The Blog Entourage is back at ya with another great weekend blog hop! It will run all day every Saturday and Sunday. It was a big hit last weekend. Let's make it even bigger this time!
And hop however you want, but I am not going to put in the rules that you should follow back anyone who follows you. Follow whoever you want to follow, and I encourage you to only follow blogs that you are genuinely interested in reading. Then you will be more likely to go back to those blogs and comment, which will get you more genuine blogging friends and readers, as opposed to the dreaded copy and paste of "I followed you, now you follow me."
Just a few things to do before you link up:
1. Grab the code for this hop
: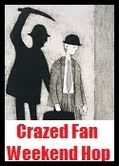 *Post this in a new blog post today, or add it to your page.
2. Follow The Blog Entourage (if you already do, please follow on Twitter, FB, etc.)
Click here to join The Blog Entourage on Facebook, where you can share links to your posts everyday!


And if you want to, please visit my other blogs,

Kaitlin & Kylie's

and

The Green Girl

.




3. Follow my lovely co-host,

The Unexpected Mother

. And follow this week's guest co-host, Not Just Another Mommy Blogger.


Your link will show up on all lists, so you only need to enter it on one.




4. Pretty, pretty please tweet, share, email, and post about this hop! There's a tweet button right below the list, along with a other sharing links.
5. NO SEXUALLY EXPLICIT BLOGS/BLOG POSTS!!!
**Please follow the rules! I pay for my linky subscription, and I spend time and effort promoting this hop.
**I will randomly pick someone from the list every week to be a featured co-host. But if the blog hop button wasn't posted on your blog or in a blog post, I will select someone else.

How long have you been blogging? I have been blogging a little over a year. Not very long, in the grand scheme of things!
What do you blog about? I started out blogging about my son, who is now three, and his shenanigans. I also blog about the things I see around me, including my cats, my husband and my work with special needs kids. I have posted some book reviews, when I have time to actually read. Recently, I've started trying my hand at creative writing. But ultimately, my son seems to take center stage--he is my muse!
Which kind of blogs do you like to read? I am a big fan of biographies, so the blogs I love the most are the ones that describe the ups and downs and sideways of a family's life, warts and all. Life is messy, but that's also the best part!
Tweet