We dropped off Zane at the daycare, and then I dropped off Larry at his school. I got into the car and looked back. There he sat, looking back at me: Ironman.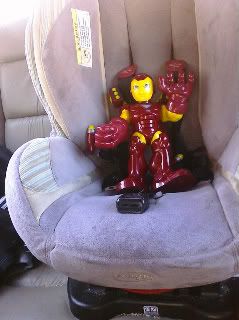 I felt kind of bad for a few moments, since he rode a good 30 minutes in the car not safely restrained. Then I thought that perhaps the fact that he's Ironman would render him impervious to most automobile crashes. I decided to take him with me. To work. I've always wanted a lackey.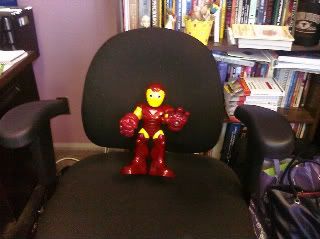 We had a brief discussion over who got the comfy chair, which I won, and then I put Ironman to work. Or rather, I tried to. He flat-out refused to go and get me coffee. He just stood there. I felt that this was certainly not the proper way for a lackey to behave.
Ironman apparently has an extreme aversion to filling out forms, which I found odd for a bazillionaire. It was probably some paper cut related trauma. I can totally understand that. That's why I hate filling out forms, too.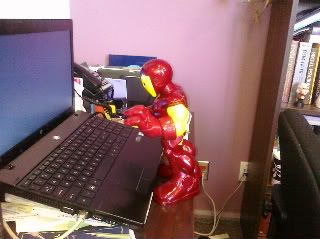 Ironman's spelling is atrocious! Hadn't he ever heard of spellchecking? Ironman responded that he was a physicist, not a dictionary. I told him to stop channelling Leonard McCoy from
Star Trek
.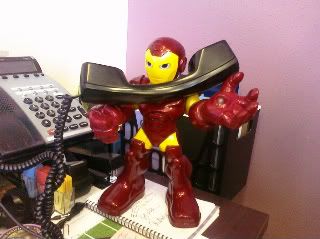 Ironman was as bad at speaking on the phone as I am. I can't tell you how many people he 'accidentally' hung up on(Sorry, Mom!)! This was very frustrating, as I had such high hopes for our office relationship. However, toward the end of the day, I did find one thing that Ironman could do in my office that really came in handy.
He was a great pen holder.