Tonight, on the drive home, I noticed that the clouds in the sky had formed up as a huge wing. It extended across my windshield, and I had plenty of time to look at it since it was going my way. Seeing it made me smile. When I see the shapes of wings in the clouds, I think of angels being in the sky looking over us. Yes, I believe that angels exist. You can laugh at me, it's okay.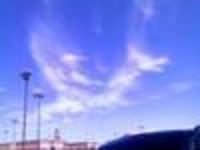 Every single time I've been at a dark point in my life an angel has shown up. From the time when I was seventeen and saw the shadow of angel wings behind the altar during Mass to the day I took this picture of a man riding a dragon in the sky. An angel has even visited me in the form of a DPS officer with the intense, piercing blue eyes and a very kindly face. There's always been Something or Someone 'Other' around, telling me that whatever my problems, whatever my heartache, it was going to be okay.
Notice that I didn't say that an angel showed up and took care of my problem FOR me, although if one did show up with a check for a couple of million bucks I certainly would be properly grateful. Heaven helps those who help themselves, remember? No, at my lowest points in life, when I am looking for strength, courage, support, and most importantly, hope, the angels are there. My angels have shown up in various ways over the years to give me hope and strength to face my issues and work through them. I am extremely grateful for that.
Although I wouldn't say 'no', if someone did take a few of my responsibilities away for a bit. Like housework. And I would TOTALLY be okay with coming home to a clean house and finding dinner ready every now and then. And maybe if a free masseuse showed up mysteriously...